The President of the Muslim Legal Network (NSW) requests the pleasure of your company at an Iftar in observance of the Holy Month of Ramadan to be held at Doltone House, Hyde Park on Wednesday 14 June 2017 at 4:30pm for a 4:45pm start.
This is an opportunity for legal practitioners to network and share a meal to mark the breaking of the fast. A 'prayer room' will be available until 5:40pm.
The Hon Justice S Rothman SC AM, Judge Supreme Court of New South Wales will be the chief guest, and the guest speaker will be Islamic Scholar and Principal of Garrison Lawyers, Shaykh Haisam Farache.
* The iftar is the meal that breaks the day of fasting during Ramadan, it is served at sunset.
Venue: Doltone House, Hyde Park, Level 3, 181 Elizabeth Street, Sydney NSW 2000
Cost:$100 per person (inc. GST) (paid members to receive a $10 rebate)
Register here: https://www.trybooking.com/book/event?eid=282229&
Contact:For further information, please email the Event Organisers here: events@muslimlegalnetworknsw.com
This event is proudly sponsored by Birchgrove Legal and Zahr Partners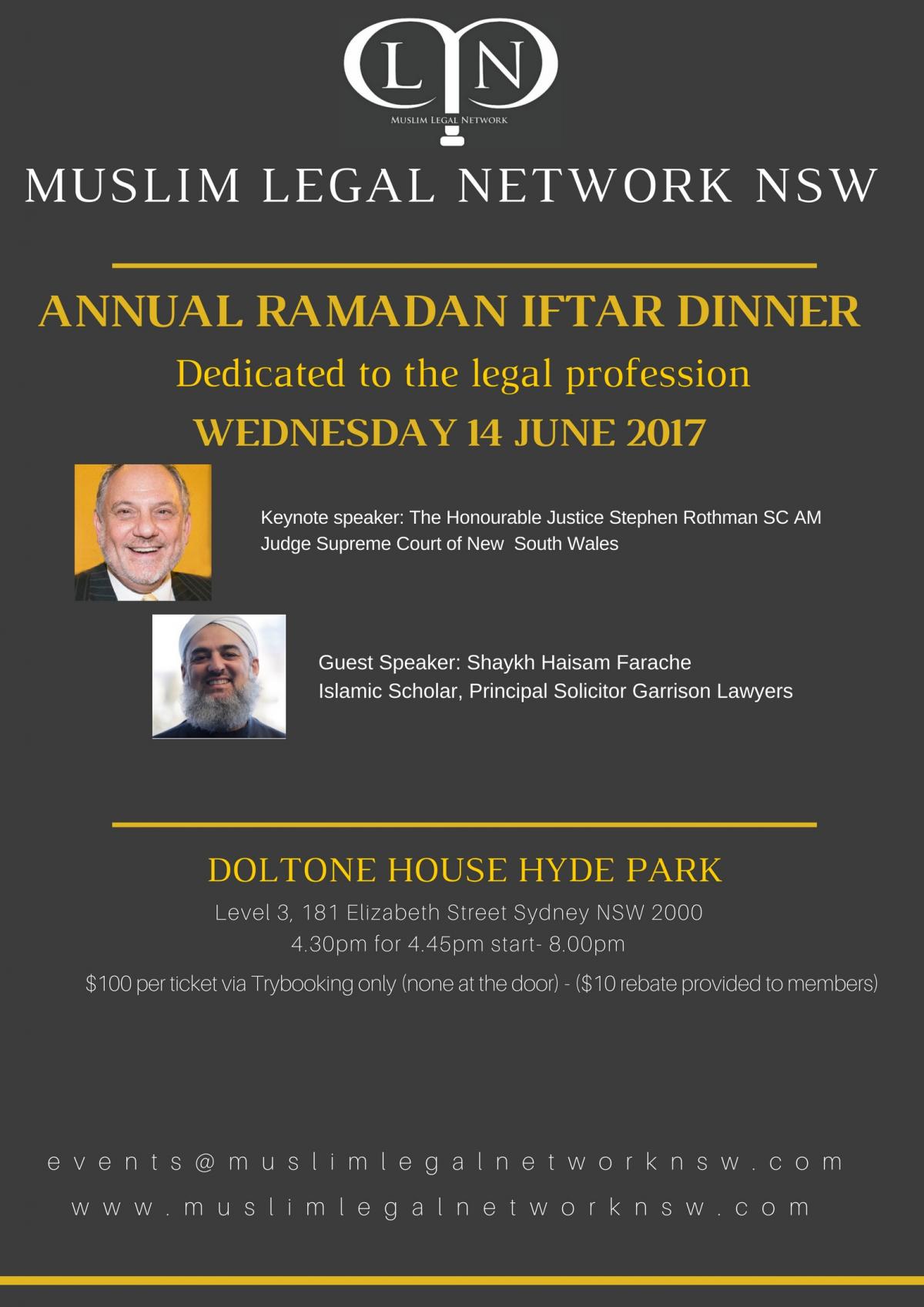 Read more
Date posted: 2017-05-24 | Comments(0)
OPENING OF LAW TERM 2017 - ISLAMIC SERVICE
The Muslim Legal Network (NSW), in conjunction with the Auburn Mosque Committee, take great pleasure in inviting the Judiciary, members of the legal profession and community members to Auburn Gallipoli Mosque to attend an Islamic service to mark the opening of the 2017 Law Term.
The service will be held from 6:15pm to 7:30pm on Thursday, 9 February 2017. Guests are requested to arrive at 6:00pm so that the service can commence on ti...me. The mosque is located at the corner of Gelibolu Parade and Dartbrook Road, Auburn.
We would appreciate if you could indicate whether you will be attending, to assist us with making the appropriate arrangements. You may forward your rsvp to events@muslimlegalnetworknsw.com .
The Auburn Mosque Committee has requested that the attendees kindly observe a modest dress code for the event: for example, we would be grateful if shoulders and knees were covered and high-necked shirts were worn.
We are very appreciative of your support and look forward to hosting you
Muslim Legal Network (NSW)
F.A.Q:
Can I attend if I'm not Muslim?
· Yes, everyone who wishes to is welcome to attend
· The Mosque is public place and open to all.
Can I enter a mosque without a headscarf?
· Yes, however, it is respectful for women to cover their heads with scarf or shawl and for men to wear an Islamic cap (neither are compulsory)
Will seating be available inside the Mosque?
· Traditionally, attendees at a Mosque are seated on the floor, however, chairs will be provided for those who prefer to use them
What should I wear?
· You will be required to remove your shoes before entering the Mosque, so you may wish to wear socks
· Modest dress, such as pants or dark stockings
· If skirts are worn, they should sit below the knee
· High necklines
· It is preferable to bring a scarf/shawl
Will refreshments be served?
· After the formal service, a light meal will be provided
Can I attend if I am not a practicing lawyer?
· Yes. Although the event is to mark the Opening of Law Term and legal professionals are encouraged to attend, the wider community is also welcome.
Is there public transport nearby?
· Auburn Train Station is a 5-10 minute walk from the Mosque
· Street parking is also available.
Can I join the prayer?
· Yes, you may join and follow the congregation.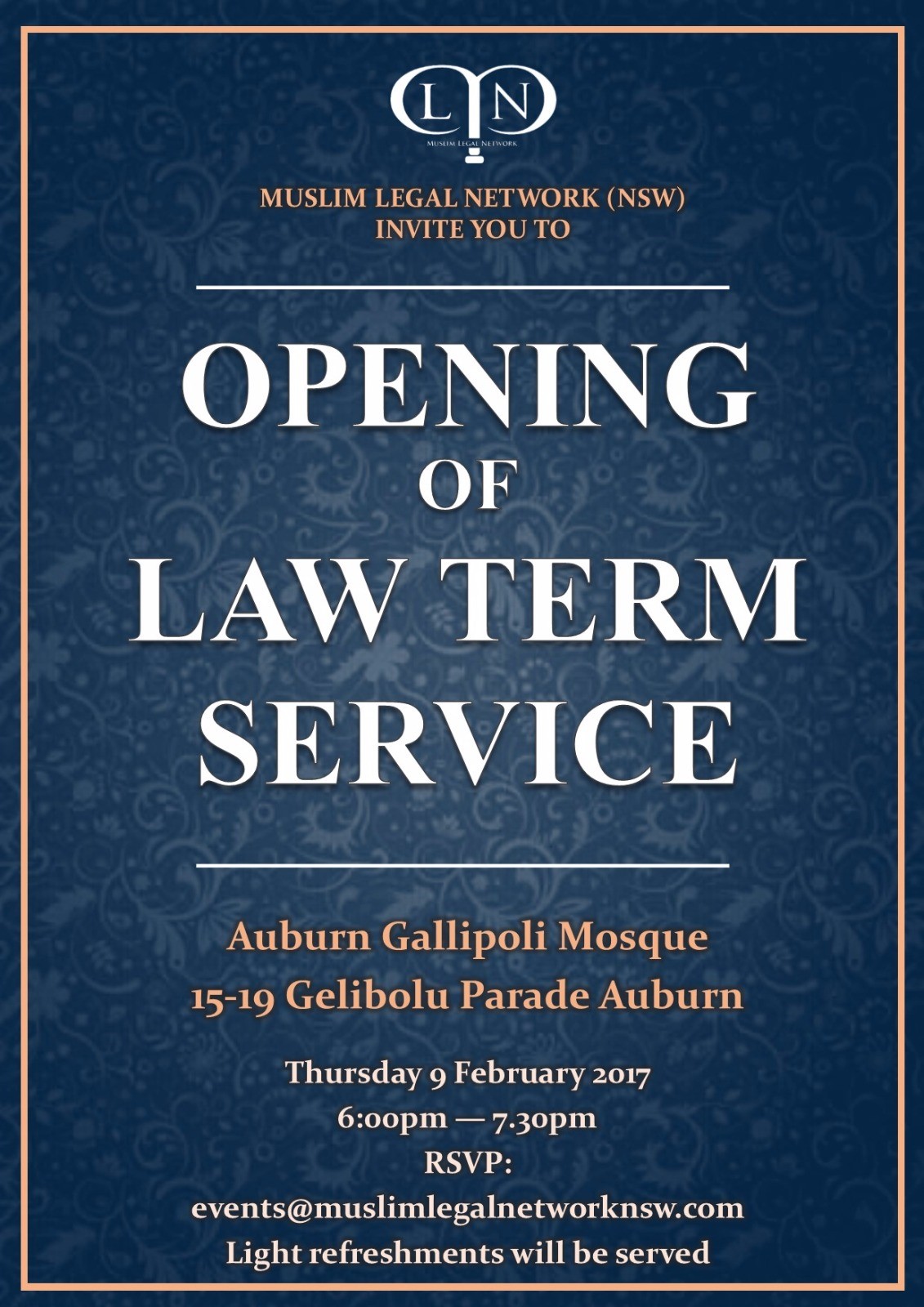 Read more
Date posted: 2017-01-25 | Comments(0)